Learn how to isolate, understand, and solve problems when managing users and PCs on Windows. You will be able to get to the heart of the problem and set it right with the advice of a Microsoft MVP with many years of experience supporting Windows users with their Group Policy issues. Expert advice helps you face the complexity of real-world hardware and software systems and the unpredictability of user behavior.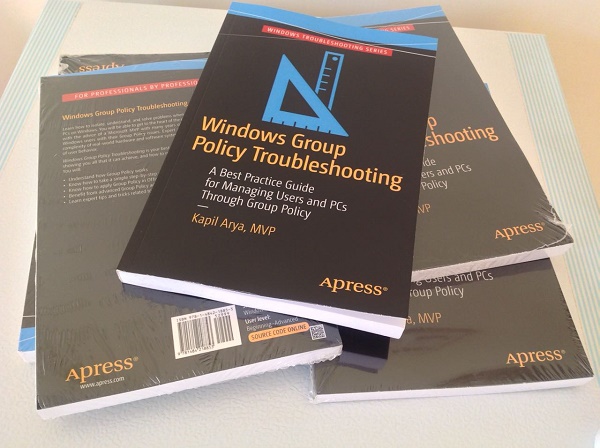 Windows Group Policy Troubleshooting is your best-practice guide to Group Policy, showing you all that it can achieve, and how to repair problems when they occur. You will:
Understand how Group Policy works
Know how to take a simple step-by-step approach to troubleshooting problems
Know how to apply Group Policy in Office applications
Benefit from advanced Group Policy advice
Learn expert tips and tricks related to Group Policy
About Author
Kapil Arya is a Microsoft MVP (Most Valuable Professional) in the Windows Experience category since 2014. Microsoft accomplished him as Microsoft Community Contributor for his active and consistent contributions to Microsoft Answers and TechNet IT Pro forums over the last four years. Kapil lives in India and runs a popular Windows troubleshooting blog named Kapil Sparks™. The blog gets real-time updates with new how-to guides, tricks and tips that may interest a Windows user. Being a passionate blogger, he loves to help others to fix their system issues. He enjoys dabbling with the Windows Registry and regards the Group Policy as his playground. You can meet him on all leading social networks.
About Editor
Andrew Bettany is a Microsoft Most Valuable Professional (MVP), and has been recognized for his Windows expertise by Microsoft since 2011. He is well known and highly experienced IT books author in Microsoft/Windows domain. Passionate about learning and helping others he frequently donates his time to work with Microsoft. He is a frequent speaker and proctor at TechEd conferences worldwide. In 2011 he delivered a "train the trainer" class in earthquake-hit Haiti to help the community rebuild their technology skills and returned again in 2013.
You can buy this book on Amazon or directly from the publisher site i.e. Apress.